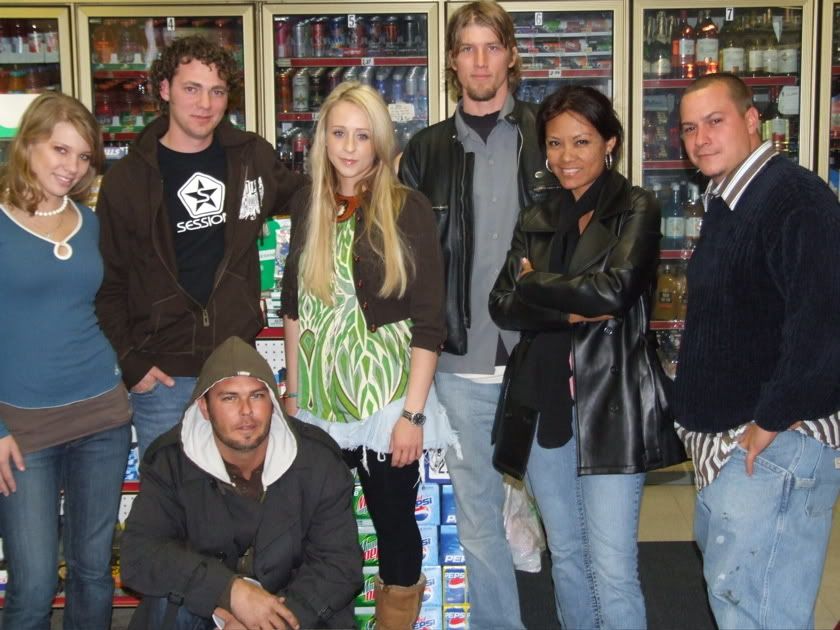 At the convenience store, Feb. 20, 2007. Left to right :
Alexandra Aileen, Kevin Hardiman, Anthony Haviland (kneeling), Mercedes Danekas, Ryan Litton, Desiree Duclayan-Parsonson, Ely Kalilikane.
---
Read the following bios of our cast and crew! Without the hard work and dedication of this team, EMPTY STREETS would still exist in notebooks.



George Baker (Co-Producer)

helped set up the casting and locations. George is the founder of the Shockerfest International Film Festival, now in its 11th year.



Karma Outlet (Editors and Sound Editors)

is a small-scale video production company located in Grass Valley, Calif. The company is run by Ryan Litton and Chris Keefer. Karma Outlet provides a variety of video-graphical services to suit the customer's needs, from documentaries and independent films to special events and weddings.



Eve Hands (Executive Producer)

is a producer and writer. Eve founded her Kaua'i-based company, Paradise Production Studios. Her most recent production credit is co-producer of the motion picture "Immortally Yours".



Alexandra Aileen (liquor store girl #1)

is a 18-year-old (at time of filming, now 23) starting to make her way into film acting. She feels extremely honored to have Empty Streets be one of her first bigger film projects, considering that it has such meaning and impact. She will be leaving for college in Southern California next fall, and hopes to continue acting throughout her life. She would like to thank Paul for taking such risks to bring an often overlooked problem to the surface of his audience's hearts and minds.



Mercedes Danekas (liquor store girl #2)

is an aspiring actress from Elk Grove, Calif. Mercedes is a professional Angus rancher and works on her family farm in Wilton.



Paul Bruton (police officer)

works as a copy editor in the town of Lodi, Calif. When he's not red-penning reporters' words he is likely doing something outdoorsy or playing sports.



Kris Price (liquor store clerk)

is an actor and filmmaker living in Modesto, Calif. He is the owner of thinkboxfilm productions and a student at Modesto Junior College. Kris worked as a production assistant and had a small acting part. Kris says, "What I learned from it is that it's great to know what happens to the military person who comes home from war, and that we need to take care of them and find them jobs instead of lose them in the shuffle. I think this will be an eye opener …"



Cody Leroy Bartlett (parking lot punk #1)


He provided a few tapes we shot the film on. Additionally, Cody works as a Mortician, is father of two with his wife Charito, and avid bird-watcher in Sacramento, California.